Your username and password for unionplus.org will not work on this page. Please input the username and password you created for this site.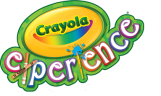 Crayola Experience
Crayola Experience is the perfect indoor family attraction any day, rain or shine! Here you immerse yourself in the world of Crayola, with tons of things to do for kids of all ages. Name your own crayon, turn yourself into a coloring page and more! Plus, while you're here you can learn all about Crayola's history.
Redemption Instructions
Log in to view the redemption instructions for this offer.
Participating locations include:
Crayola Experience Mall of America
300 S. Ave
Bloomington, MN 55425
Map